"Peace" of Paradise
**Click here for Availability Calendar for Peace of Paradise**
Welcome to "Peace" of Paradise, on the beautiful Turtle Flambeau Flowage, Mercer Wisconsin. Here, the peace and quiet of the Northwoods lets you forget about your hectic life back home. Enjoy the Loon calls, a successful day of fishing, reading a book on the pier, or anything our famous Northwoods of Wisconsin has to offer.
The Turtle Flambeau Flowage has 19,000 acres of water, 212 miles of Shoreline, is 90% State owned, 195 Islands for use in fishing, hunting, camping, canoeing and Nature Observation.
The cabin is only 5 feet off the water and it has it's own private lakeside yard with a fire pit. Campfires are permitted as long as moisture conditions permit.
This cozy 3 bedroom cabin is the perfect place to enjoy the peace and quiet of the northwoods. You will experience breathtaking views out of every window. Only steps away from the water makes this the perfect spot to vacation with family and friends.

3 bedrooms
1 room with full a sized bed
1 room with bunk beds
1 room with a queen bed

The cabin includes:
Stunning views
Water frontage access and a pier
Newly remodeled bath
Dock for boat tie up and fishing
Private and common swimming area
Charcoal grill
Fire pit
Picnic table
Satellite TV and a DVD player

32" flat screen TV
No boat but rentals are available either in town or on premises if available.
No pets Allowed
Fully equipped kitchen including, microwave, coffee maker, toaster, blender, all kitchen utensils and much more!
Things to Bring Checklist:
Bath and Kitchen Towels
Paper Towel
Flash Lights
Bath Soap
Dish Soap
Life jackets
Bug Spray
Sun Tan lotion
In Season Rates
$775.00 Saturday to Saturday for a group of 4 people* (1 week minimum stay)
Additional guests $50.00/person/week
Daily rate for in season $175.00 a night plus a cleaning fee of $60.00 when departing from cabin.
In season weekend rate $425.00 plus a cleaning fee of $60.00.
Security deposit of 550.00
Deposit of 50% of reservation, plus security deposit, required within five business days in order to hold your reservation. Balance due 45 days before reservation date. The cleaning/damage portion of your deposit will be returned approximately 14 days after your departure, provided all rental conditions are met.
Cancellation policy: Summer & holiday reservations require 30 day notice of cancellation for a full deposit refund. If cancellation is less than 30 days from the time of stay, the deposit can be applied to another reservation. Prices exclude sales tax.
Off season after Labor Day to October 31 and April 15 to Memorial Day
5.5% sales tax and 4.5% room tax to be added.

Check In 2:00 P.M. - Check Out 9:00 A.M.
No Pets
**Click here for Availability Calendar for Peace of Paradise**
The cabin sleeps 6 people.
How to Find Us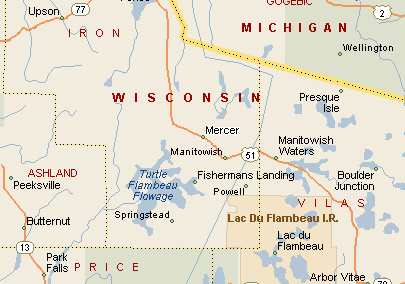 We are located in the heart of the Turtle Flambeau Flowage in Iron County Wisconsin, near the town of Mercer. About 375 miles from Chicago, 300 miles from Milwaukee, and 275 miles from Minneapolis. Easily accessible from U.S. Highway 51 from Mercer (12 miles). Take County Highway FF from Mercer to the Turtle Flambeau Flowage.
Driving Instructions to Mercer Wisconsin:
From Chicago: Take Interstate 90 West to Interstate 39 in Portage Wisconsin. Interstate 39 changes over to U.S. Hwy 51 North. Continue North on U.S. Hwy 51 to Mercer.
From Milwaukee: Take Interstate 94 West to Madison where it merges with Interstate 90 and continue North to Interstate 39 in Portage Wisconsin. Interstate 39 changes over to U.S. Hwy 51 North. Continue North on U.S. Hwy 51 to Mercer.
From Madison: Take Interstate 90 West to Interstate 39 in Portage Wisconsin. Interstate 39 changes over to U.S. Hwy 51 North. Continue North on U.S. Hwy 51 to Mercer.
From Minneapolis: Take Hwy 8 East or Hwy 70 East to U.S.. Hwy 51 North to Mercer.
Directions to Cabin from Mercer, Wisconsin: From the town of Mercer, follow U.S.. Hwy. 51 N. to CR-FF. Turn left on CR-FF to Popko Circle W. Turn left and travel 3 miles to the Pine Road on right.
---
Angler's Paradise at Yago's Retreat
4159 North Pine Road in Mercer Wisconsin
For reservations or more information contact:
John & Ellen Jagodzinski, Owners
715-476-2097
E-mail Us
---
We are Proud Members of the


Network
This site and all pages herein have been designed by and are hosted
by the Internet Specialists at UpNorth Publishing, a division of BOTEK CORPORATION
and are the property of Yago's Angler's Paradise.
Copyright © 2016 Yago's Angler's Paradise All Rights Reserved.
---
Cabin Cottage Vacation Rental on Turtle Flambeau Flowage in Mercer Wisconsin